Fernvale
A teamster's camp beside a newly cleared bullock track was the beginning of Fernvale, originally known as "Stinking Gully". The spot became a regular camping place on the road from Ipswich to Esk and in 1875 it became known as Fernvale.
Since then Fernvale has emerged as one of the most popular weekend tourist spots within the vast Brisbane Valley. Twin Bridges and Savages Crossing are popular swimming and picnic spots for families to cool off and the launch point for canoeists to meander down the Brisbane River.
The Fernvale markets are a prominent attraction every Sunday morning, to visitors and locals alike. Bargains can be found while you stock up with farm fresh fruit and vegies. Experience the many eateries and shops that line the main street, including the home of the town's award winning meat pies.
For those who want to stretch their legs, the 9km 'Rail Trail' lends itself to an experience of scenic views along the Brisbane River between the towns of Fernvale and Lowood, or if you choose you can ride your bicycle or horse.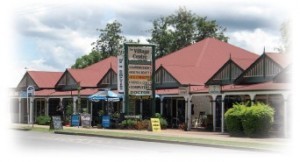 Toogoolawah
The first settlement in the Brisbane Valley was in 1841 by the McConnel family at Cressbrook Station. McConnel's land was later divided to create the town of Toogoolawah.
It lays claim to one of the most significant events in Queensland history. In 1873 Queen Victoria sent a small herd of red deer as a gift after Queensland was named in her honour. The deer were released at Cressbrook Station in Toogoolawah and descendants of those deer can be found throughout the region today.
Stay overnight at one of the town's hotels and take a step back in time by enjoying a movie, in the old country style, at the Alexandra Hall. Get to know the locals in one of the many country pubs on the Main Street where many stories can be discovered, or sample a great meal at one of several restaurants and eateries.
For the adventurous, feel exhilarated by sport parachuting or try a tandem skydive above the township. Visitors can be thrilled by Watts Bridge Memorial Airfield's Festival of Flight, which is held annually in August.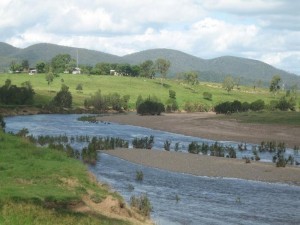 Harlin, Colinton, Moore and Linville
The Headwater Country is the start of the Brisbane River. It is a destination which encompasses all there is to see and do in the upper Brisbane Valley. As you wind through the unspoilt scenic countryside, century old buildings begin to appear and lead you to the quiet villages of Harlin, Colinton, Moore and Linville.
The warm country hospitality of the locals reminds you of an era gone by. Take the opportunity to stop and talk to them to find out the area's hidden treasures.
The picturesque parks in each township offer an overnight stop for caravans and campers to enjoy the Brisbane Valley Rail Trail or just simply pull over to relax and take in the beautiful scenery and refreshing country atmosphere.
The headwater area of today still remains one of the few relatively unspoilt reaches of the Brisbane River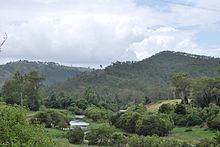 Source: Somerset Regional Council